Thoroughly Tailored
in

which

we

discuss :
Tailoring is a hallmark feature of Activity Insight, and is fully included in all subscriptions.
You're not going to get into Activity Insight only to find that it can't accommodate your needs. It has been proven over more than 10 years on the nation's largest research campuses and most diverse liberal arts campuses. You won't outgrow Activity Insight — instead, you'll grow into it.
When exploring tailoring in relation to software, it typically means dramatically increased cost and uncertainty about how the customization will impact future versions. Those are not concerns with Activity Insight.
We handle all the details for you, and we don't charge more for it.
Can you use Activity Insight without tailoring it?
Activity Insight is a full-featured solution on your first day using it. It includes the utilities, tools, and best practices we've developed after partnering with clients for more than 10 years.
It's imperative the system meet everyone's needs across your campus. After you launch Activity Insight, your campus's leaders will quickly begin seeing new reports that could be prepared using the information. Many of these will require very specific layout, formatting, grouping, sorting, ordering, lists, calculations, and ways of displaying information.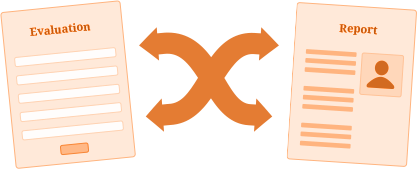 Consider the various faculty evaluation documents used across your campus. While you could certainly use an ad hoc reporting utility to obtain the information needed for each of these reports, you would then need to spend considerable time reformatting and performing computations to be inserted into the documents per faculty member. This would take a huge amount of time, and be very onerous and error-prone.
The benefits of continually & fully tailoring faculty activity reporting software
In order for faculty activity reporting software to succeed, it must enable faculty, or someone on their behalf, to enter information about their teaching, research and service activities just one time so that the information can be used everywhere — for accreditors, personnel reviews, profiles of your faculty on your campus websites, and to meet the various reporting needs of your individual academic units. Continual tailoring of faculty activity reporting software will always be required due to:
Changes in reporting requirements imposed by external stakeholders, such as accreditors and legislators
Changes in campus leadership and/or their reporting needs
Identification of new ways in which to leverage the database as its acceptance and use mature
All of these mean additional and alternate data must be collected. Because these changes occur at all levels in a campus administration, from academic affairs all the way through individual academic units, it results in the need for continual evolution of the data collected by, and the reports available in, a faculty activity reporting solution. And, as is the case with the need to comply with all reporting deadlines, time is always of the essence — which applies additional pressure.

These requirements pose a tall order, as it means that the software must adapt to meet the needs of many people on your campus who each have ever-evolving reporting requirements.
We designed Activity Insight to be extremely flexible, and have the expert staff to help your university adapt and grow with the system as needed.
How software is usually tailored
Typically, when you buy a robust new software system, you'll encounter one of two scenarios:
You must devote your already stretched IT staff to implementing and configuring the new system. The built-in customization options are limited and any modifications from there are made by the vendor for additional costs.
Tell us what you need. We customize the software to your exact specifications with fast turn-around. No charge, ever.
Many campus IT departments are already stretched thin. Adding another system to their plate at first sounds neat, as adopting new systems is interesting and fun. Quickly, though, the burden of supporting the system sets in and change requests come with time-consuming delays. Further, if the IT person who knows the system ever leaves, their knowledge and understanding goes too.
Having the vendor that makes the software implement your customizations makes sense, but most vendors are not well equipped to handle this process. The resulting experience is time-consuming, rigid and expensive for customizing a system that requires iterative customization. In addition to the cost for hiring an additional company, your IT department will likely still have to supervise.
Lastly, with either of these two options, you're still not likely to get the most out of this kind of software. The point of customization is to report your data in your way. Digital Measures can not only tailor Activity Insight to accommodate your exact needs, but we can assess the impact that data has across all the documents you output, ensuring all your reports are accurate and complete.
Customizing Activity Insight is very different
When you want to makes changes to Activity Insight, all you need to do is tell us the changes in plain English. You can print a copy of a screen that's in the system, write on it, and send that to us. If you'd like to send us a Microsoft Word document that has "track changes" enabled to show the edits, that would be great. Whatever is easiest for you works for us. There is no need to learn the technical aspects and then tap an IT person on your campus.
We do it for you, with guaranteed turnaround times.
Can I just email you changes I want?
Anytime.
Can I make changes by videotaping myself acting my requests out using interpretive dance?
Yes. Please do that!
an unpredictable future necessitates a customizable system
Your reporting needs are dependent on things that are beyond prediction, so you need a faculty activity reporting system that is flexible and adaptable. Activity Insight was built to be just that; providing the building blocks to start and the flexibility to be customized to your exact needs.
We've never had a client who didn't make good use of the adaptability of Activity Insight.