Who we are
You have real reporting requirements. Meeting those requirements while streamlining resource usage is your top priority, not evaluating technology.
At Digital Measures, we understand faculty activity reporting. Since 1999 we have partnered with more than 60% of the largest 500 universities in the US to achieve reporting success—success that is based upon responding to the real needs of our clients.
We don't have outside investors. This enables us to focus solely on our clients' needs. Supporting those needs means developing best practices to share with our clients, creating features that foster success, investing in each of our clients' implementations for the long-term, and introducing internal processes at Digital Measures that are efficient and effective.
Since we speak the language of people across your campus—from academic affairs and deans offices to institutional research departments to IT organizations, as well as faculty—we are able to translate everyone's data management needs into customized system requirements that fit your campus...and then we implement them. As such, you don't need squadrons
of programmers involved in implementing your faculty activity reporting solution. We overlay our knowledge of university structures and higher education concepts on top of our technical abilities to ensure each of our clients' implementations meets its specific and varied goals.
This focus has made us the de facto standard in faculty activity reporting, as evidenced by our list of who's who clients among universities worldwide.
Digital Measures' thought leaders regularly present best practices in faculty activity reporting at multiple conferences each year. Universities, agencies, and governments seek our advice regarding what works when it comes to maximizing the value of faculty activity reporting.
Give us a call or send us a note. We'd be happy to assess your faculty activity reporting needs and recommend potential solutions that achieve your goals.
Our History
Digital Measures was founded in 1999 by Matt Bartel while he was a student at the University of Wisconsin-Whitewater.
He recognized that the existing paper-and-pencil method of collecting student course evaluations was inefficient and could be significantly improved by replacing it with a digital, web-based solution. University of Wisconsin-Whitewater agreed and became the first client of Digital Measures. The company's clientele quickly grew as word of mouth traveled throughout the UW-System—and to other universities—of this new, cost-effective solution.
In 2001, the provost at another University of Wisconsin-System campus approached Matt with the idea of moving her campus's electronic system for keeping track of their faculty's teaching, research and service activities to Digital Measures. Seeing another opportunity, Digital Measures expanded its solutions for academia with its introduction of Activity Insight. After more than 12 years, Activity Insight is now our flagship solution.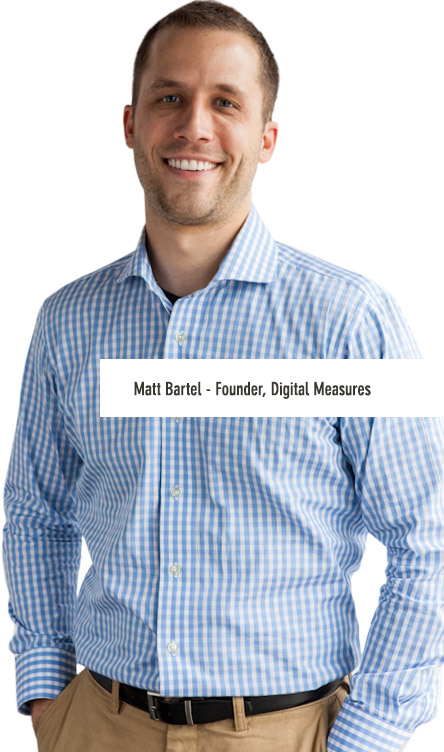 Our Executive Team
This is the group that guides our team of nearly 50 DMers.